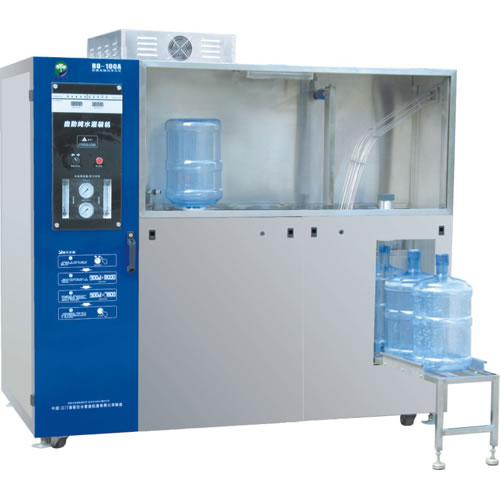 Description
Water filling machine is an automatic pure drinking water bottling equipment for five gallon water bottles. Consumers can use their own bottles to get water for drinking. It is the most ideal pure water or mineral water filling equipment currently. This water filling machine adopts IC card payment system and automatic program control. The machine includes four parts like bottle washing, filling, electrical control and pneumatic control. Automatic water filling machinery is extensively used in water shops, urban, industrial and mining enterprises and individual units. Pukui has strong R & D capability of water bottling equipment. We have our own professional R & D team and our products have gained ISO 9001: 2008 and CE approval. Pukui can also provide filling machines according to customers' specific needs.
Features
1. Pukui water filling machine is reliable and easy to operate. Only one or two workers can complete the whole filling process.
2. This automatic water bottling equipment is controlled by PLC with touch-screen as the human-machine interface.
3. Bottle washing, filling and capping process is carried out in a closed state to prevent pure water or mineral water from secondary pollution and to realize truly aseptic filling.
4. The water filling machine's liquid filling design adopts the latest technology from Japan and Germany. The filling is fast and the fluid control is stable. There is no dripping phenomenon.
5. The water bottling equipment's filling and capping will be stopped automatically when there is no bottle.
6. The amount of water in the storage tank can be controlled automatically.
Jiangmen Pukui Intelligent Machine Co., Ltd is a professional manufacturer of water filling machines in China. We mainly produce RO pure type, integrative type, IC card type and five gallon water bottling equipment. In addition, we also supply water vending machine, ice vending machine and small vending machine. Our products have been exported to USA, Canada, England, Australia, India, Russia, Mexico, Guatemala, South Africa, Hong Kong and Taiwan.